HISTORY
A singer, songwriter and multi-instrumentalist, Eliot Lewis has toured the world over as a member of the Daryl Hall & John Oates band, as well as a former member of The Average White Band. Eliot has also been the only musician to appear on every episode of Daryl Hall's popular, "Live From Daryl's House" show all while keeping his own solo career going at a seemingly impossible pace. 
Over the course of his career he has worked with the music business' elite including, Billy Gibbons (ZZ Top), Joe Walsh, Sammy Hagar, Todd Rundgren,Train, Cheap Trick, Grace Potter,  Squeeze, Rob Thomas,  Jason Mraz, Darius Rucker, Gavin DeGraw and many, many others.
 Having mastered four instruments over the course of his career; guitar, keyboard, bass and drums, Eliot's shows will find him moving from one instrument to another. Equally at home in front of 100 or 15,000, Eliot has performed on the worlds most legendary stages, including Madison Square Garden, Japan's Budokan, Red Rocks, The Hollywood Bowl, Carnegie Hall as well as Late Night with Jimmy Fallon, Conan O'Brien, The Today Show, Jimmy Kimmel Live and many others. 
Eliot has carved out his own distinctive musical brand and sonic landscape and has written, performed and produced ten solo releases. There are many who shaped Eliot's music and writing. As a guitar player, definitely Jeff Beck who I've been listening to all my life, as well as Billy Gibbons who I had the great fortune of working with recently, and Peter Frampton who I actually jammed with when I was 14 yrs old. I had the amazing experience of meeting and seeing many influential artists when I was a kid mainly at Madison Square Garden in New York City.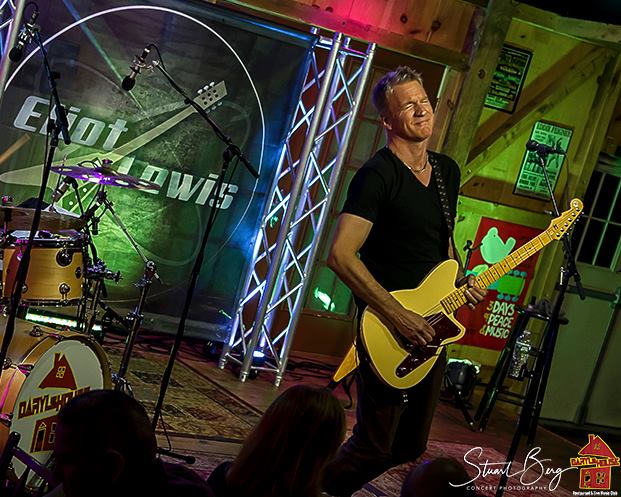 PRESS 
"Eliot is a musician who can do it all, great singer, songwriter and guitarist. 
He rocks and he's got soul. No one does it quite like him" - Daryl Hall 
---
"His talent and dedication go way beyond the average performer. 
In short, Lewis is a guy who respects his fans and craft. 
If Lewis comes to town, go see him" 
- Thom Jennings (Backstage Axxess) 
---
"Exuberant, skilled and passionate, Eliot Lewis has a special 
gift for tapping his musical influences to produce inventive and original songs that soar" 
- Chris Epting (Music Journalist/Author) 
---
"He blistered through song after song with amazing tone and creative soloing. 
Lewis unleashed a few covers that many other bands have attempted at one time 
or another. The big difference? Lewis has actually played all those songs with those artists" 
- Mike Raymond (Examiner AXS Entertainment) 
---
Partial list of venues performed solo
Akron Civic Theater - Akron, OH 
The Lincoln Theater Decatur, IL
Daryl's House Club (LFDH) - Pawling, NY 
Levitt Pavillion Westport, CT
Hard Rock - Boston & Pittsburgh
Mozambique - Laguna Beach, CA 
Rams Head On Stage - Annapolis, MD
Marathon Center for the performing arts. Findlay, OH
The Kate Theater Old Saybrook, CT
Vinyl @ Hard Rock Las Vegas, NV
Fairfield Theater Company - Fairfield, CT  
Hoosier Park Racing & Casino - Anderson, IN 
Sellersville Theater - Sellersville, PA 
---
Eliot's Official Endorsements
Bose Speakers  
Roland Corporation 
Reverend Guitars 
Gator Cases